It Is The Time For The Tech-Nerds To Shine?
With the pandemic dictating social distance and staying indoors, the world rapidly changed. The porn industry successfully followed, or even yet, started dictating the norm. Embracing the technological advancements in VR pumped their game. There are even some indications that it may be the new coming standard very soon. But can a pair of glasses for virtual reality change peeping holes in pornography and the privacy of your home? It seems that we are already in an alternate, but quite similar reality (at least when it comes to hard physical pleasure) 'Brave New World' where you are allowed 'lots of orgies, lots of sex, and mating without complex'. The liberating sensation of the privacy of your home allows the industry to provide the usual big cock ramming and pussy loving shows, and it can even enhance the taboo sensation from the video to your mind. As soon as Gear VR became popular, the interest in porn content in VR exponentially grew. People in the porno industry are always on the lookout for ways to utilize the latest technology that is focused on enhancing the customer experience. Unfortunately, there are a few technical conditions that you have to meet, before venturing into the amazing world of loud squirts right before your eyes. We hope you understand that this content will not be available in online stores such as Google Play or Oculus. Probably the easiest way is to use your internet provider to visit porn sites that already have videos made for VR devices. The most popular services like YouPorn, PornHub, and xHamster have included a category of VR for quite some time. There are also specialized websites like SexLikeReal and VRBangers that have better video and resolution quality (especially if you have the rest of the required equipment). VR videos with a 360 range are officially compatible with Gear VR and GoogleCardboard. If you have other VR glasses, give them a spin, chances are they might still work.
VR Is Not Just A Solo Act, You Can Have Fun With Someone
Now just because you are a pornophile, it does not mean you are doomed to enjoy this magnificent experience alone. If you have only one pair of glasses and a choice of porn genres ready to go, plan and order another pair. This way you can turn this solo act into a team activity and raise the game of your foreplay on an entirely different level. There are a few options available, where each has its perks. Your creativity and imagination are the limits. But here is a pro tip- for those who are watching porn together, use the presence of the other person and up the VR experience. One person can be the player, and the other can play the character from the game and synchronize actions with the things happening on the screen. It may sound a bit complicated and take a little practice, but it is something that would be worth trying and messing around with. Of course, there are some ready-made products. Certain sex toys can be paired with VR glasses and allow the user to experience the action from the porn in real life. There are a few of these toys, with the range going from Bluetooth synched toys, to specific sensors that make the entire process more efficient. Sex toy manufacturers will always tell you that you should consider investing in at least one VR porn toy that can synch with the video so you can feel the action more. Some websites will offer a live VR cam girl, but those websites will usually charge and provide such options for premium website members. The only unfortunate thing is that the majority of these manufacturers focus on interactive make strokers that allow the user not only to feel the dick inside the girl in VR porn but can also allow experiencing virtual sex with remote lovers. (Much like in Huxley's 'New World'). The benefit of these toys is that they can be used for masturbation independent of the VR and without syncing to the videos. The synchronization is done via 'scripts', where many top websites will have them available. Another option is to go and buy them on websites that specialise in selling erotic scripts. Another option is to write your own, and again, use your imagination. We created a list of the best picks from VR porn sites: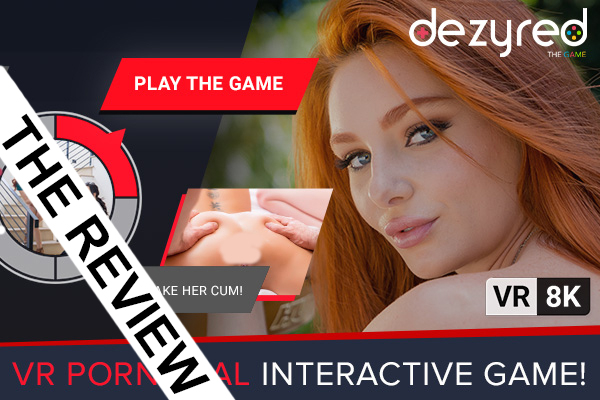 Watching VR Porn
The experience quality is something that cannot be properly described with words as virtual reality porn transforms users from passive observers of sexual fantasies narrated and directed by someone else into active participants, and of experiences. The orgiastic escape of VR pornography allows even the kinkiest fantasies to come to life. We already talked about the required technology, trying to do some research on general equipment you need to play games and watch content in VR. It will take some investment and planning, but try to think about the endless hours of fun you will have with women and men of all shapes and sizes. After finding the appropriate tech set and learning how to use it, keep in mind that VR porn is something that is not easy to keep to yourself if others in the house shouldn't see it. Make sure you have a space set up to make the most out of the experience, and that it is somewhere with a door, a lock, and a key that will allow you complete privacy. Some VR porn will require space, especially if you are a fan of the POV experience, where you will probably need to move around a little to be able to follow the action of a scene. Also having your eyes and ears cloaked with the equipment, you will not be able to see or hear someone near you, talking or looking at what you are doing. After you finish with all the preparations it is time to search for the best websites that offer VR porn. Most of the good ones will sell subscriptions from $10 to $50 per month. It will come to personal preference. Try some free VR porn samples, test out the waters, and who knows! You might even find yourself enjoying something new, as it will feel more adventurous and real.

Once You Go VR You Never Go Back!
People often can't grasp how watching a juicy Latina between the legs of the gardener would be better in VR than in regular porn. Well, for starters, you can be the gardener! Some passionate pornography explorers feel grateful they grew up in a time where VR was something from a sci-fi movie. Having a virtual reality set as a teenager seems to be tricky, and quite addicting. Maybe you wouldn't know when to stop. The 3D surrounding allows you to have an experience better than one simply watching porn on a two-dimensional screen. You can monitor what happens up and down, and do complete circles around the entire room. As far as technology goes, it is pretty amazing. Sometimes the quality of the image is not always clear. You are not able to simply click on VR porn and watch it like your regular choices. The setup takes a hot minute, which is a downer for a hot mind yearning for some steamy blondes. The experience is worth the setup, as it can feel more real.
For those who have never tried it, there is an app called Gear VR where you have free videos and samples from hundreds of VR porn websites. This is the next thing instead of a dopamine rush. When you are there you feel like you can stick out your hand and touch the woman or the man. Even in this 'early age' of VR, there is an extremely addictive potential. The quality of videos may vary from time to time, but most of them are e+actually quite impressive. There have been reports of people who were not able to enjoy regular flat-screen porn in HD after experiencing VR. The entire perception stimulates the brain more, which is what makes it so intoxicating.
Also Dont miss our Top VR Porn List