Breaking The Back Door (VRBangers) Is As Dope As It Sounds!
4 Steamy VR Flicks With Riley Reid – So, you like POV and swear by VR. This means that you are at the top of the porn food chain, not interested in mediocrity. You demand top quality, big names, and plots that increase the excitement from second to second. Maybe you even like petite, cute, Tinkerbellish starlets. Say no more. All these preferences fit into two words. Riley Reid (vr porn videos). Now, you may be dishonest and say that you don't know that she started her career great. It is not that every rising star wins the Best New Starlet award without genuine talent and effort. But, even if it didn't intrigue you, it would undoubtedly intrigue you to find out why she won the Female Performer of the Year award after that. Certainly not because of shy and withdrawn behavior. OK, maybe because of the submissive behavior. If we're talking about subjugating big dicks.
Speaking of which, this petite, teen-looking starlet seems to have a handful of impeccable skills. However, if you especially appreciate blowjob skills, you will not want to skip the following titles. Maybe now you think, what has anal maidenhood got to do with a blowjob? But, you know how they say, never judge a book by its cover! Instead, imagine this. If a hot chick decides to lose her anal innocence, she won't immediately let the dude in the back door. Instead, she must first prepare herself by doing what she has learned so far. Riley Reid obviously lost all forms of virginity a long time ago. Still, she flawlessly portrayed what the first dream anal would look like in this video! How does it start? Of course, by satisfying (conditionally speaking) your cock with her skillful tongue.
This video is a must-see if you like to be in the VR role of Riley Reid's boyfriend. You can find it on VRBangers, and it starts with this sexy baddie in hot black lingerie entering your room. But, before she gives you the honor of being the first to break into her tight ass, you'll be treated to a fantastic blowjob spiced with cum swallow. Then, you'll taste some extra treats, such as the perfect angle during BJ. Finally, it lets you see her tattoo along the spine, mischievous eye contact, and a horny smile. Aren't you lucky! This perfect blowjob is in 6K UHD VR! So, you will enjoy her bubble butt, perky tits, and dick-deprived tongue in the ideal resolution. Plus, you are celebrating your anniversary in the video, which means Riley will go some extra miles to thank you for being such a great boyfriend. And you will know how to reciprocate! Be honest. As much as you're into a blowjob, you never stop at just that sex ac, do you? Well, nor you will in this scenario. Dive into spectacular cowgirl, anal, and squirt scenes when you get your fellatio. And by the way, Riley left her pussy hairy, just the way you like it!
Riley And Angela White Fluting Together At The New Year's Party (POVR)
The New Year is long gone, but it is never too late for gifts! Especially when two bombshells join forces to meet your needs. VR threesome with Riley Reid and Angela White is the dream of every porn connoisseur. If you take into account what each of them knows and can do, just imagine what it's like when you get it all at the same time. Yes, blowjob too. Where there is room for one tongue, there is room for two!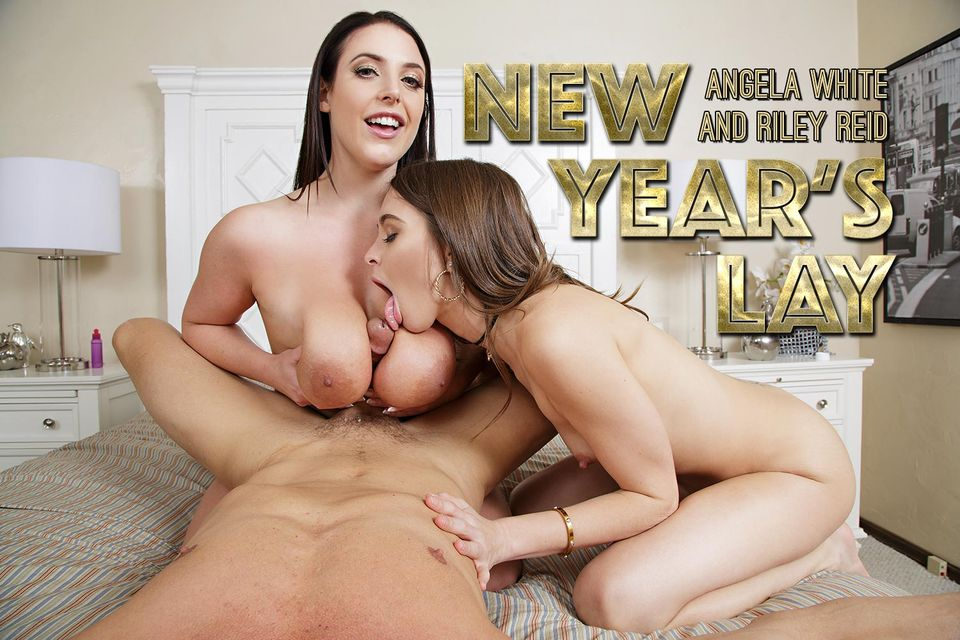 Where to find this holiday treat? On POVR.com. It seems that the idea behind this flick was to provide the ultimate pleasure for everyone's taste. Tiny tits, massive tits, petite and curvy body, bubble, and big butt. Diversity has not bypassed the categories either. In addition to a blowjob, New Year's Party provides you with a hot missionary, reverse cowgirl, threesome, and doggy style. If you love two brunettes teasing you, Angela and Riley are a pitch-perfect combination. So, why else is this video so exciting? It begins with a cute and playful Riley teasing you in her sexy voice. She looks like a next-door girl in a T-shirt and shorts.
However, her busty friend soon walks into the bedroom and jumps into your bed with a smile. Then, of course, she joins the foreplay right away.
Still, the foreplay doesn't last long, as these two hotties are already horny enough to throw themselves into the action. If you're unsure which of the two should lick your chopper first, don't let the dilemma spoil your fun. They will both do it simultaneously and look you in the eye with a slutty smile. When the time for titty fuck comes, it's only logical for Angela to offer you her massive natural boobs. However, that doesn't mean Riley will sit idle! While you're fucking Angela's balloons, Riley will be licking your head. And there's no way you won't be delighted by this scene!
Be The Most Desirable Coach In Kinky Athletics (NaughtyAmericaVR)
If there's one thing porn taught us on NaughtyAmericaVR, it's that slutty athletes don't caress tennis balls only. Instead, they much prefer balls in your possession. Again, lucky you! So, who are these naughty tennis players from the Kinky Athletics video? Riley Reid and Melissa Moore. We'll wait for you to catch your breath. OK, let's move on. Remember when we said at the beginning of this text that you only require classy fapping material as a die-hard VR fan? Well, this VR treat brings you just that – a top-notch, exclusive 6K Ultra blowjob and a unique plot.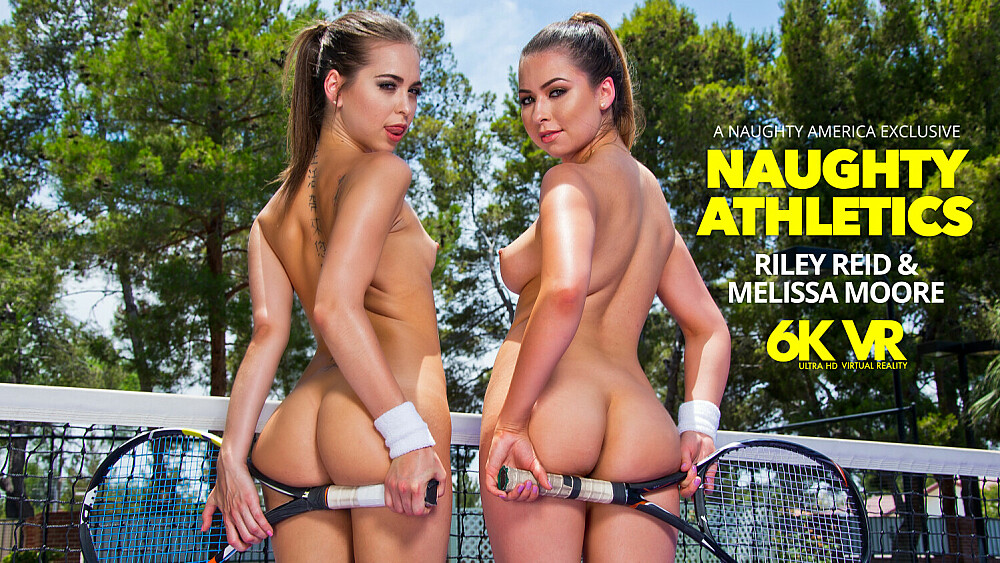 Suppose that you like playing tennis in your free time. Maybe you like it so much that you want to be a coach (or you already are). Either way, I'm sure you wouldn't mind if hot babes wanted to dedicate themselves to your balls after the tennis match. In other words, by no means skip this juicy porn flick. While Melissa is sampling your big sausage, Riley is preoccupied with sucking your testicles. Do we need to say that all this is followed by lustful glances directed at you? Cum in the mouth goes without saying!
These two baddies are absolutely complimentary when it comes to blowjobs. They are no less up to the task or support each other while you're wrecking them in the doggy style. While one rests their holes from your ferocious rhythm, the other gives them a pussy caress. And we all know that detail always comes in handy! Speaking of details, if you prefer both babes to have small natural tits, petite bodies, tiny ass, and trimmed lady clam, the good news just keeps winging its way to you! Plus, if you are so into a threesome with Riley and Melissa and are already on NaughtyAmericaVR, check out other joint performances of these beauties. Who knows what else these mischievous athletes are doing!
Riley Reid Wants To Tame Your Snake (XHamster)
If your snake really needs taming, Riley is the most reliable person for the job in any case. She knows when it's time to wake it up. She also knows how to keep it awake for hours and tire it with the love games, and finally put it to sleep perfectly. If you don't believe me, believe the video on XHamster. Riley Reid Wants To Tame Your Snake is the perfect name for a video because it shows what you know deep down. And that is that, if anyone can give your dick all sorts of fun and pleasure, it's this petite baddie. But let's stick to what you like best.
So, what's in it for you in this amazing VR scenario? As you casually lie naked on the bed, Riley approaches you with only jewelry on. She's already horny and determined to wake your dormant snake. She manages to do that very quickly because you are not immune to her tongue going up and down your penis and balls. While she combines handjob, blowjob, and deepthroat, at the same time, you enjoy her great mood. She simply enjoys giving you everything you want. And if what you wish to do after perfect fellatio is a good old (reverse) cowgirl, you will get everything you need!
Riley Reid shines like a diamond in everything she does, regardless of category. Her sex appeal and top sexual skills are especially evident in VR. She knows very well how to satisfy you, and when you see her through VR headsets, she multiplies the pleasure by ten! In these four videos, she dominated with a special lusty note. Her energy will always raise you to a higher level of enjoyment. So, if these general details about these great videos have already tickled your imagination or given you a boner, that's another sign that you shouldn't miss watching them. Why not check out the one that caught your attention now?